Life and Works
Chronology of the Life and Works of André Lhote (1885-1962)
Born into a modest family in Bordeaux on 5th July , 1885. After his primary school certificate in 1897, André Lhote became apprenticed in a woodworking workshop, where he learned ornamental wood sculpting.
L'Atelier Courbaterre le jeune André Lhote est devant au milieu
1899 He studied Decorative Arts at the École des Beaux-Arts in Bordeaux, and he began to paint.
1905 He stopped wood sculpting and concentrated on painting. He left his parents' home, as they disapproved of his project.
1906 In exchange for his paintings, he acquired African masks and other ethnic objects in the Bordeaux Flea Market, particularly from the artist-dealer Pascal-Désir Maisonneuve. The latter introduced him to Gabriel Frizeau, who was the sole admirer of modern art and contempory literature in Bordeaux, and a friend of Paul Claudel, Francis Jammes and André Gide. It was in Gabriel Frizeau's drawing room that André Lhote first discovered modern painting in the works of Gauguin, D'ou venons-nous ? Que sommes-nous? Où allons-nous? (Boston Museum)
| | | |
| --- | --- | --- |
| | | |
| André Lhote à 14 ans © Archives André Lhote | Portrait d'Alain-Fournier 1912 | André Lhote 1907-1909 © Archives André Lhote |
1907 It is in the same drawing room that André Lhote also meets a young man of his own age, Jacques Rivière (1886-1925), future director of La Nouvelle Revue Française, and who remained his friend until he died. This marks the beginning of a correspondance, joined also from 1909, by Henri Alain-Fournier (1886-1914),who was Jacques Rivière's friend and brother-in-law, and future author of the classic Grand Meaulnes. André Lhote exposed three of his works at the Salon d'Automne in Paris, and continued to do so each year hereafter.
At this salon, the retrospective Cezanne (56 of his works), who had died the previous year, created an esthetic and important shock in his pictorial concept.
La Grande forêt 1908
Coll. Particulière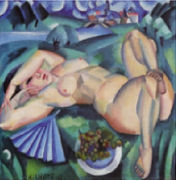 La Bacchante 1912
Exposée au Salon de la Section d'Or Musée des Beaux-Arts de Bordeaux
1908 After various attempts, he is finally admitted into the Salon des Artistes Girondins de Bordeaux, called «Salon des Refusés». He is discovered by Joseph Granié, a well-known art collector and friend of artists, who becomes patron for his future Parisien career.
1909 Marriage to Marguerite Hayet.
He is invited to participate in the exhibition in the Cercle de l'art moderne in Le Havre, where he shows two paintings.
1910 Entry to Villa Medicis Libre in Orgeville (Eure), a foundation for married artists. He is there during the same period as Raoul Dufy and Jean Marchand. In november, he has his first private exhibition in Paris at Eugène Druet Gallery. Charles Morice, one of Gauguin's friends, wrote the introduction to the catalogue.
1912 His research leads him naturally towards cubism, but with a personal touch, inspired by Roman fresques and primitive art. He is invited to show ten of his works at « La Section d'Or »at the Gallery La Boetie, in Paris. He is also shown at « The Second Post Impressionist » exhibition in the Grafton Galleries, London, organised by the painter Roger Fry and the Bloomsbury Group (the Virginia Woolf crowd).
1913 Private exhibition in Stockholm.
1914 Private exhibition in Paris at the Vildrac Gallery in the spring.
Enlisted at the declaration of war, was a part of the auxilliary forces at Bordeaux Prefecture.
1915 He is deferred due to a health problem in his retina.
1916 With four paintings and four water colours, he participates in the Salon d'Antin, organised by André Salmon in the salons of the couturier-collector, Paul Poiret. It is at this exhibition, with the theme of Modern Art in France, that Picasso will first present his painting Les Demoiselles d'Avignon.
1917 Teaches painting at the Atelier Libre, boulevard Montparnasse, Paris. Joins the group of synthetic cubism.
He heads an artistic mission, taking place in wartime marine naval ports.
Completes a large painting Rugby, (Paris, Musée National d'Art Moderne). Movement, play, costumes, lend themselves to the geometric organisation and rythme of this colourful composition.
Summer vacation in Piquey, in the Arcachon bassin,with Jean Cocteau. The following years with Diego Riviera, Jacques Lipchitz, and many other artists.
| | |
| --- | --- |
| | |
| Rugby 1917 Musée National d'Art Moderne | Portrait de Jean Cocteau Coll. Particulière |
1919 In June, Lhote becomes art critic for the Nouvelle Revue Française, which exists until the second World War. This marks the beginning of forty years of correspondance and friendship with Jean Paulhan (1884-1968), who, at the death of Jacques Rivière, becomes director of the Revue.
He is a member of the group «La Jeune peinture française » who exhibit in Paris, Anvers, The Hague and Rotterdam. André Lhote shows his paintings and gives conferences at these events.
1918-1921 He teaches at l'Atelier d'Études, boulevard Raspail, l'Académie Moderne, rue Notre-Dame des Champs, and l'Académie Montparnasse, rue du Départ, in Paris. These institutions have students from all over the world.
| | |
| --- | --- |
| | |
| Le Peintre et son modèle 1920 Musée National d'Art Moderne | © Archives André Lhote |
1920-1930 Very active period. André Lhote is called upon to participate in many exhibitions in France and abroad, both for his works and to lead the conferences. He is one of the principle leaders in reflextion on the evolution in the art world, and has an active part in this post-war art scene. He illustrates many books. Is a member of the «Quatrième Groupe» of painters from the Gallery Druet, who exhibit annually.
1920 Private exhibition at the Gallery Druet, prefaced by Jacques Rivière. Visit and exhibition in Sweden, Belgium and Holland. With conferences. Illustrates Escales by Jean Cocteau, Les Animaux et leurs hommes by Paul Éluard. Articles in the English revue Athenaeum. Such as Middleton Murry with whom he is in correspondance since 1919.
| | |
| --- | --- |
| | |
| L'Académie en 1927-1928 © Archives André Lhote | 14 Juillet en Avignon Musée des Beaux-Arts de Pau |
1921 Private exhibition at the Paul Rosenberg gallery.
1922 Jacques-Émile Blanche invites Lhote to organise the exhibition «Cent ans de Peinture Française» with him, with profits to go towards the reconstruction of the Strasbourg Museum. This would be showing masterpieces from prestigous collections. Lhote does the introduction for the catalogue «From J.A.D.Ingres to cubism».
1923 Conference at the Collège de France «Nature-Painting, Painting-Poetry» André Lhote develops his conception of a painting as «plastic metaphore».
1925 Opening of the Academie André Lhote, 18 rue d'Odessa, near the Montparnasse station. His teachings attracted many artists from over the world. Amongst which are Tarsila do Amaral, Tamara de Lempicka, Hans Hartung and Anna Bergman, Aurelie Nemours and a large number of artists from l'École de Paris. Photographers worked on pictorial space compositions, amongst the most well- known are Henri Cartier-Bresson, Rogi André, Dora Maar. André Lhote finds the village of Mirmande in the Drôme and decides to bring new life there. He settles there for his summer school, attracting artists and those who love old stonework.
| | | |
| --- | --- | --- |
| | | |
| Mirmande un jour de Mistral Coll. Particulière | André Lhote en 1928 © Archives André Lhote | Esquisse pour Léda 1932 Coll. Particulière |
1929 Invitation to exhibit and to give a conference at the Tunisien Salon in Tunis. Also to Hungary and Romania.
1932 Conference at the Institut d'Art et Archéologie de Paris  «Le Cubisme » Private exhibition at Galerie Druet.
Projet de fresque 1935
Coll. Particulière
1933 Edition of La Peinture, le cœur et l'esprit, Paris, Denoël.
1934 The committee of the French Encyclopedia invites Lhote to write the chapter on the composition of a painting.
1935 He organises «Temps Présent» at the Gallery Charpentier, inviting great artists from the previous generation to be present to meet with younger artists.
1936 The conference «Should we burn down the Louvre» which he gives at the Salle Pleyel in Paris, causes a major disturbance in the art world and museums, in relation to modernisation of museums, restoration and cleaning of distressed paintings.
Participates in debates on realism and painting which have caused a stir in the world of art during this period of clashes, when political concepts tended to influence plastic representations. These debates continued in Venise during the Painting Biennale, under the heading of «The State and Art».
| | | |
| --- | --- | --- |
| | | |
| André Lhote peignant Les Dérivés de la Houille Coll. Particulière | Gordes © Archives André Lhote | La porte de la maison de Gordes Coll. Particulière |
1937 During the Universal Exhibition in Paris Lhote composed two large panels for the Palais de Découverte: Le Gaz, Les Dérivés de la houille.
1938 Realisation of a large decoration for the amphitheatre Painlevé in the Conservatoire National des Arts et Métiers. This was never installed.
He discovered the village of Gordes in the Vaucluse, bought a house there and tried to bring new life there, as he had done in Mirmande.
1939 Edition of Traité du Paysage, Floury.
1940 Welcomes his friend Marc Chagall in Gordes, who also purchases a house there, whilst awaiting his departure to America.
1942 Publication of Peinture d'abord, Denoël
1943 Publication of Petits itinéraires à l'usage des artistes, Denoël. This is an illustrated journal, consisting of drawings of the villages in the Rhône Valley from Mirmande to Gordes.
| | |
| --- | --- |
| | |
| Portrait de Simone, 1947 Coll. Particulière | La Cadière 1957 Coll. Particulière |
1944 Marriage to Simone Carmin.
1946 Publication of an anthology of literature by painters: De la Palette à l'Écritoire, Corréa, and Écrits sur la peinture, in Brussels and Paris, Éditions Lumière.
The first retrospective of his work was shown at the Palais des Beaux Arts in Brussels, in November.
1947 André Lhote organised the exhibition of «L'Influence de Cézanne» at the Galerie de France, in which all the great masters of the twentieth century were present.
1948 Purchased a house in La Cadière d'Azur in the Var. He brought friends and students here, as he had previously done in Mirmande and Gordes. Published Seurat, Paris, Braun, and Cézanne, Lausanne. Éditions Jean Marguerat.
Gave five conferences at the Sorbonne during the winter of 1948-49 on the theme of «À la Recherche des Invariants plastiques». The last two were published in 1967 under the heading Les Invariants Plastiques, Paris, Hermann.
| | |
| --- | --- |
| | |
| André Lhote en 1950 © Archives André Lhote | Le Caire Coll. Particulière |
1950 Published Le Traité de la Figure, Paris, Floury.
Invited by the Egyptien gouvernment,particularly by the Minister and poet, Moenis Taha Hussein and his friend the painter Mohamed Naghy bey. André Lhote spends the winter in Egypt, discovering Theban paintings , exhibiting and giving conferences in Cairo and Alexandria. He meets up with Egyptien painters who had studied in his school in France. This is the year that Lhote donated his painting «Rugby» (1917) to the Musée National d'Art Moderne in Paris.
1951-1952 During the winter André Lhote returns to Egypt to study pharaonic painting.
Été 1952 Journey to Brazil, after an invitation from his brazilien painter friends, who asked him to form an art academy in Rio de Janeiro. He also gives a number of conferences there.
Rio de Janeiro
Coll. Particulière
Sainte Trinide
Coll. Particulière
La Pointe Lousteau 1961
Coll. Particulière
1953 Exhibition at the Musée National d'Art Moderne «Le Cubisme», in which Lhote exposes twelve of his works.
1954 Publication of Chefs d'Œuvres de la peinture Égyptienne, Hachette, with numerous illustrations.
President of the french delegation at the International Association of Plastic Arts bi-annual event in Venice.
1955-1961 Beginning of tributes and retrospective all over the art world in general.
1955 Fabrication of a large decoration destined for the Institut d'Odontologie of the Bordeaux Medical School La Gloire de Bordeaux.
1956 Published La Peinture Liberée, Paris, edited by Grasset. Also De l'Abstraction representative, Florence, Sansoni. Received the Grand Prix National des Arts, with numerous events in his honour on this occasion.
1957 Acclaimed by the Union des Arts Plastiques.
1958 This is the year of the great retrospective of André Lhote at le Musée National d'Art Moderne in Paris, organised by Jean Cassou, who also introduces other retrospective exhibitions over two years in the Juster Gallery in New York.
1960 In view of the work to be done on his house in Gordes, and exhausted by a health problem of which he is not yet aware, Andre Lhote regretably sells his house there. As his eyesight diminishes, his colour palette becomes more vivid.
1961 Retrospective of André Lhote at La Maison de la Pensée Française, organised by Georges Besson, who introduces «André Lhote ou la liberté retrouvée». During the summer he returns to the Bassin d'Arcachon, the place where he spent his vacations as a young man.
1962 24th January, the death of André Lhote.